Bird Watching and Wildlife Photography in Malaysia
Malaysia is an ideal choice for bird watchers and anyone that enjoys looking for wildlife (birds, butterflies, dragonflies, damselflies and primates). Read the testimonials. Join our trips.
A BIRDING AND WILDLIFE TRIP IN MALAYSIA
We are very grateful to all bird watchers and photographers that have hired us as their guides and we repay that trust with our very best service in the field. Read some of the testimonials below.
Be amazed by the sheer diversity of beautiful birds, butterflies and primates, take pictures and observe these enviable wildlife. Join us to explore Kuala Lumpur, Kuala Selangor, Fraser's Hill, Taman Negara, Krau Wildlife Reserve and many more. Over 700 species have been recorded in the country - there are more than 600 in Peninsular Malaysia alone while Sabah & Sarawak recorded over 580.
MALAYSIA - OUR EXPERIENCE AND THE TRIPS
DANIEL
(USA)
ROGER
(NORTH CAROLINA,USA)
"I was impressed by your focus on customer service. It appeared that customer service comes naturally to you. Your attention for details was amazing. Within that short span of time, I could watch and photograph a number of species of birds and monkeys. Before coming to Malaysia, I had never photographed sunbirds. With you on my side, I felt that photographing such a fast species became easier. Thanks for all your help. Keep in touch."
"I have tremendous respect for your knowledge, enthusiasm and tireless effort to find the birds. In addition you are a wonderful person, I very much enjoyed our time together over and above the birding. I wish you great success, I would highly recommend persons make use of your services and I hope to do the same again myself. I do hope I get a chance to return and I will definitely arrange some time with you."
"Thank you for an outstanding bird/butterfly watching and nature photography. Your knowledge of birds was excellent, and I greatly appreciate your attention to the smallest details of the trip. I also appreciate your enthusiasm around natural history in general. My favorite was the Sunda Colugo (flying lemur) - I never knew such an animal existed, and this supposedly noctural creature was delightfully active for us."
TOP NOTCH SUPPORT AND FRIENDLY SERVICE
Our guests have said it all. We look forward to guide you in your birding and photography adventure in Malaysia.
Flexible and custom-made itineraries according to your preference
Birding experience since 1990s
Guided by licensed nature guides from Malaysia
Opportunities to take photographs and sightseeing as well
WATCH THE VIDEO
Our team also like to have fun going out to the field during off-assignment period. We will take photographs and videos so that we could compile it for future reference and of course for sharing.

An exciting and wonderful wildlife trip awaits you in Malaysia. We would like to invite you over to our country to explore and look for birds, butterflies, dragonflies, damselflies and primates.
EXPLORE THE WONDERS OF NATURE WITH US!



IMAGE GALLERY
We'll think that you will agree, These are indeed some of the most handsome (and beautiful) avifauna of Malaysia!

CONTACT US
Get in touch, we would love to hear from you! Fill up the form below or you may also send text messages via "Whatsapp" to +60166494733.

© All rights reserved - Nature2pixel.com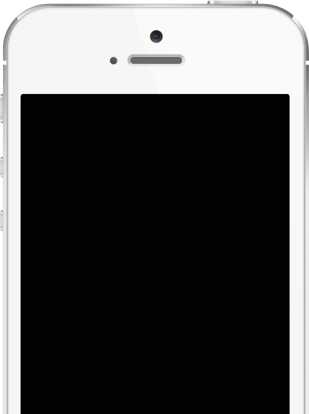 Google+
Google+" style="position:absolute;left:732px;top:10662px;width:238px;height:57px;overflow:hidden;">
JOHAN & LAURETTE
(SOUTH AFRICA / AUSTRALIA)
STEVE
(AUSTRALIA)
ROB & ANN
(KENTON ON SEA, SOUTH AFRICA)
"We had a great time. Thanks for your organizational skills - the whole trip was seamless from our pickup at the airport to the return to KL. I had 100 lifers including some great birds like Rhinoceros Hornbill, Red-bearded Bee-eater, Brown Wood Owl, 5 species of Trogons, and 5 species of Broadbills."
"We enjoyed every minute of our trip with you. Not only was your organisational skills superb but your field knowledge was also excellent. The effort you have put into our trip was noticed and we appreciated your support and assistance. We will most certainly recommend you as a guide and when we are back in Malaysia will certainly make use of your services again. Keep on laughing. "
"On June 22, 2011 my wife and I went birding with Weng Chun at Fraser's Hill (Bukit Fraser) and environs near Kuala Lumpur in Malaysia. We had a great birding experience and between my wife and I compiled a list of 48 species, including 36 lifers. Weng Chun was a great companion, an excellent birder and is fully proficient in the English language and we have no hesitation in recommending him to anyone planning to do birding in the area."
ANDY
(YORKSHIRE, UK)
"I met up with Weng Chun, a bird guide out of KL, I'd recommend anyone who wants a guide for their time in Malaysia to get in touch with him. We went to a nice forested area just out of KL (after a really nice Roti Canai at a roadside stall) and connected with some great birds including 3 Black-thighed Falconets, Black-and-Yellow Broabill, Banded Kingfisher, Orange-bellied Flowerpecker etc"
"Terence is an excellent and knowledgeable birder as well as being a thoroughly nice man. His hard work and expertise meant that I had a really great mornings birding. I would certainly use his services next time I'm in Malaysia."
"On Monday 17 September Terence picked me up at my hotel (perfectly on time despite the heavy traffic!) and we took off to Kuala Selangor Nature Park and surroundings. Even though the season was not the most perfect one, there was lots to see in a beautiful scenery. Not only birds, but also lots of monkeys, playing in the trees. Nice to escape the city buzz for one day. All in all, a perfect day. Thank you so much Terence!!!"
OLIVER
(UNITED KINGDOM)
KENNETH
(USA / INDONESIA)
"My son and I really enjoyed our one-day birding trip to Fraser's Hill. I wish we would have had more than one day as we were traveling to Sri Lanka. Terence was timely, courteous and knowledgeable. We had a great day seeing over 80 bird species and added several life birds to our lists. Our highlight sightings were the Black Laughingthrush, Lesser Shortwing and a Sultan Tit. Thanks for a great day!"
"I had an absolutely wonderful time in Fraser's Hill and am very grateful of the guiding you've provided. I didn't expect to see so many brilliant species on what was going to be an introductory taster to Malaysian birds. I will certainly come back (to see the remaining two Broadbills, some more Pittas and visit Taman Negara."
"Your service was amazing and I already wish to come back in a wetter season! Malaysian birding is always spectacular as every birders may expect but I deeply feel that Peninsular Malaysia is generally overlooked by most international birders. I wish I have the opportunity to go back and spend more time on the continent in search of those feathered gems hidden somewhere in the peninsula. Great appreciation for Terence and excellent contact with Weng Chun. Thank you very much to both of you."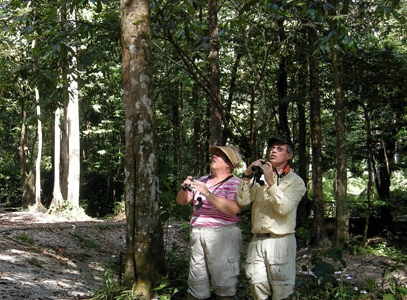 ED & SUE
(MASSACHUSETTS, USA)
"You can't go wrong with Cheong Weng Chun. He is knowledgeable, organized and passionate about birding and we thoroughly enjoyed our trip with him. Being avid birders, we wanted to spend some quality time in Malaysia birding. After much internet searching and advice from fellow birders, I found Weng Chun and our adventure began. Before we knew it we were off on what turned out to be a very successful five-day trip. All in all we identified 197 birds during our time with Weng Chun, greatly exceeding our expectations. And best of all we made a new friend. We heartily recommend visiting Malaysia and employing Weng Chun as your guide."
SIEWLIN
(MASSACHUSETTS, USA)
"I can say unequivocally that in a birding trip guided by Weng Chun, one is almost guaranteed to see a great diversity of birds of Malaysia. Weng Chun obviously has immense knowledge of the avifauna of Penisular Malaya. The itinerary he mapped out covered a diverse mix of habitats. At almost every one of these locations, I not only saw a great variety of representative species associated with the respective habitats I have Weng Chun's incredible birding skill to thank for. He has an almost uncanny ability in locating the birds he targets at any given habitat and is super fast as well in spotting, and scoping, the birds. Weng Chun's passion for birds is so acute that it is plainly infectious, he will comb through the entire forest just to get you that one more bird to go !"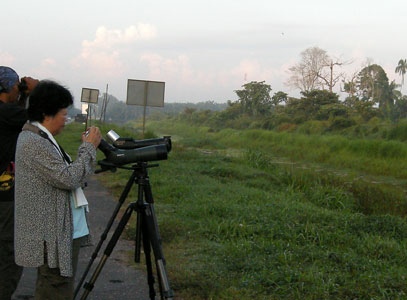 DAN & CATHY
(GERMANY / UNITED KINGDOM)
It was our first time in a tropical country and beforehand we had some doubts and worries. These, however, more or less disappeared when we arrived thanks to your marvellous organizational skills. You were great company to be with and were knowledgeable on a wide range of wildlife including butterflies (there are over 1100 species in Malaysia!), mammals and, of course, birds. You also speak English almost like a native Brit. Malaysia itself was fascinating, with some stunning wildlife and interesting culture. You really helped us to get the most out of our short stay and were absolutely flexible, enabling us at short notice to include the Selangor fireflies in our itinerary, for example. We have wonderful memories of our trip and would have no hesitation in using your services again in the future. Many thanks indeed and hopefully see you again sometime!!
ROGER
(SUNBURY VICTORIA, AUSTRALIA)
"My wife and I have just returned from a trip to Malaysia. Amongst many experiences was the day we spent birding with Weng Chun. Our original destination was Kuala Selangor, but in a phone call, Weng Chun expressed concerns about the smoke and smog affecting that area. We settled on Fraser's Hill. We departed KL with a massive thunderstorm ringing in our ears. Weng Chun drove conservatively, and with due consideration for the conditions. It was fine by the time we arrived at Fraser's Hill, and what a day we had. Weng Chun was enthusiastic, putting us on to many birds. We shared a "Lifer", with good views of three Malayan Hill Partridge. Weng Chun was great fun to be with, a conscientious guide, and I heartily reccommend him to anyone planning a trip to Malaysia."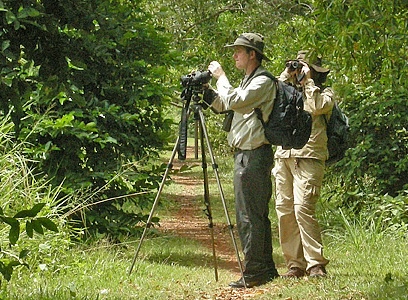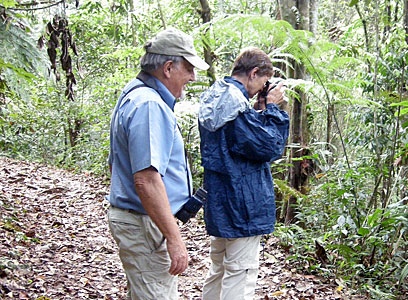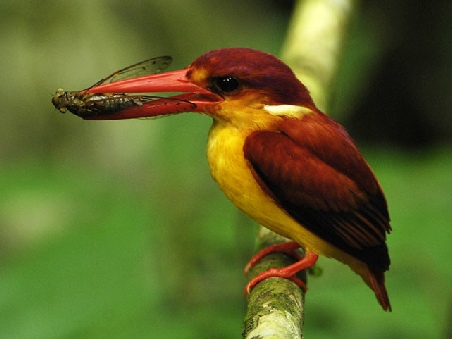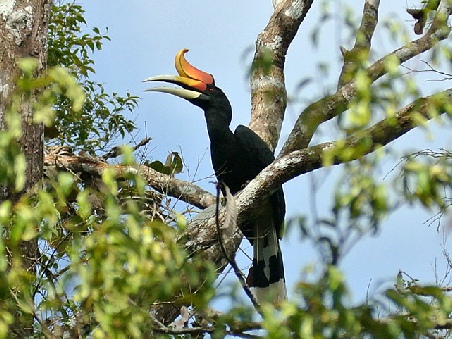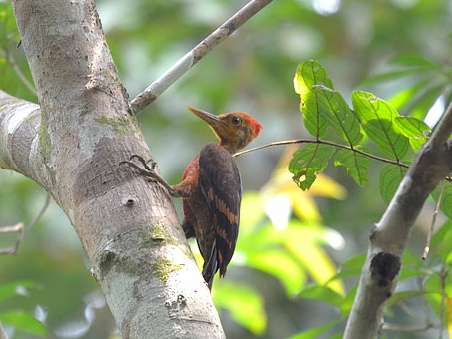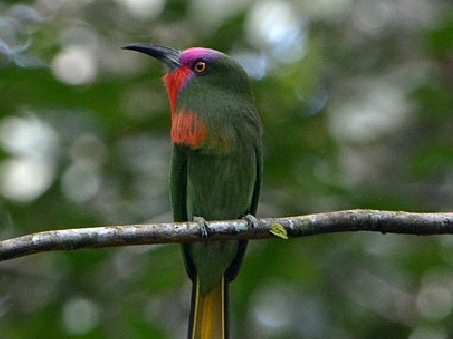 Silver-breasted Broadbill
Malayan (Chestnut-crowned) Laughingthrush
…and there are lots of butterflies, dragonflies, damselflies and primates to be encountered during a typical adventure in Malaysia.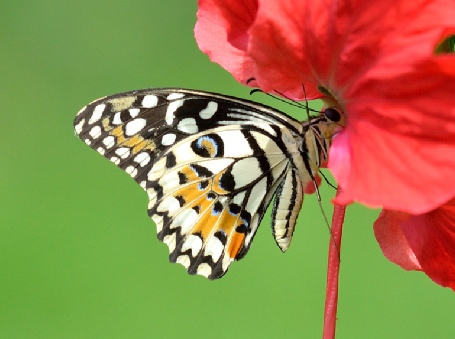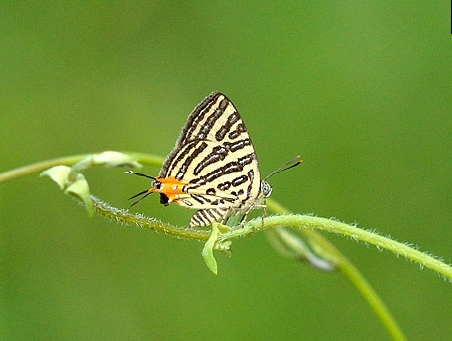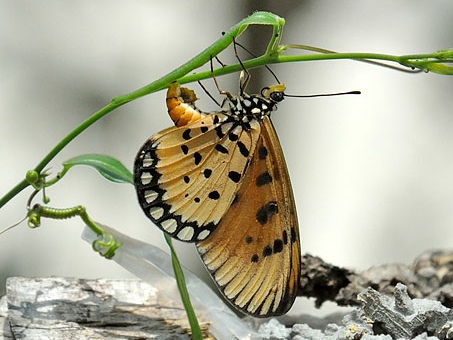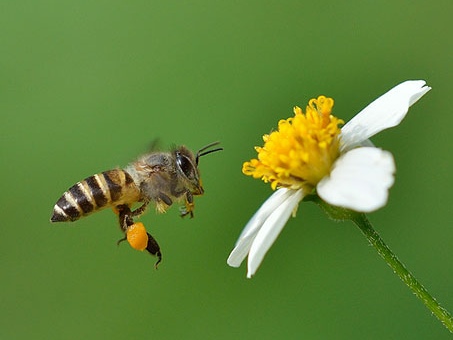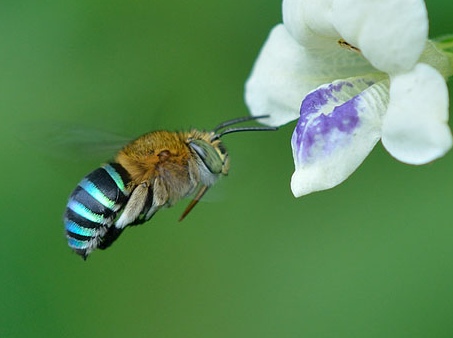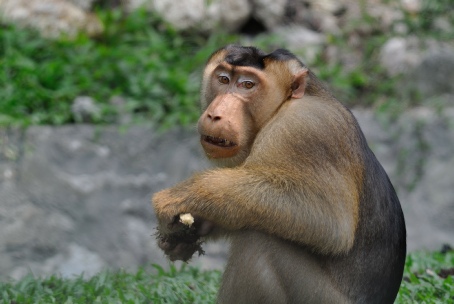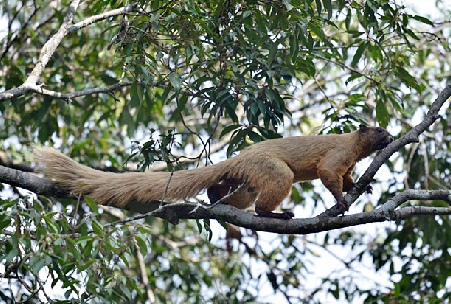 Cream-colored Giant Squirrel
Yellow Bush Dart (female)